Oh my, I've been lost in Blog Land.... have you seen all these Halloween, October, Autumn freebies/giveaway blogs???
How's a girl to get ANY stitching done with this cornucopia of ideas andinspirations?????? My list of blogs to read is doubling - nay - tripling, day by day!!!!
Let's see if I've got this right:
Fall into Fall
- over 150 bloggers with giveaways - read through each one carefully, not all are sending out of the USA
Look for the scarecrow
Hop into Halloween
- We're almost to the end of the 10 day/10 designers - ooodles of free designs, ideas and inspirations - check them out...some are really, really great and can be adapted to the Great Southern Land..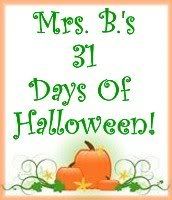 now where did I see the next one...... ah yes...
Mrs B's
31 days of Halloween... bound to be oodles of interesting bits & pieces in this one...
I just KNOW there was another one I stumbled across last night in blogland.....If I find it again, i'll edit this post to add it in...
Edited: Found it.....
31 days of Halloween
...
I really should be stitching you know..... lol