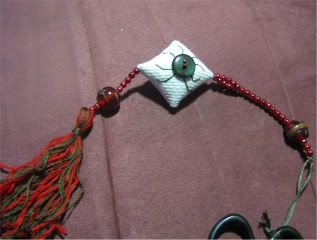 With just on a week to Halloween, I realised that it was really getting to me, trimming my Halloween Orts with my Sheepie Fob Scissors.
This afternoon, I fixed that dilemma - and I'll be able to use these next year.
I made a tiny little pillow, stuffed it then fashioned a spider, using the same trick as my last Halloweenie finish, with a button, beads and stitched legs. I added a few beads and a tassel and there you have it...
Yes, I know - two posts in a row with no sheep..... I'm working on that...
I just checked, and this was my 301st blogging post. Leave a message on this post, and I'll draw a winner on Halloween - they shall receive their very own Spider Scissor fob. The usual conditions apply - If you are a follower, you will have two entries!!
Happy Halloweenie!