Here we are, well and truly into the first month of 2012 - I've completed my first week of stitching - deciding that my weeks will run to date order (1-7), not day order (Monday to Sunday)
Consequently, at midnight Saturday,7th January, I put down my Cat project. I picked up my Christmas Tablecloth - which is in itself, a WIP, as I never finished it in time for Christmas 2011.
As I have joined in with Measi's WIPocalypse - I hope to this year, keep a regular WIP photo journey. Even my TUSAL jar has started collecting orts for 2012.
I really feel that this year is up and running!
I've changed my profile pic to reflect my kitty stitching for the year, but will not change my blog background for a week or so yet. I'm working on new graphics and hope that at least one of my sons will assist me! (Yes, John, take that as a HINT!)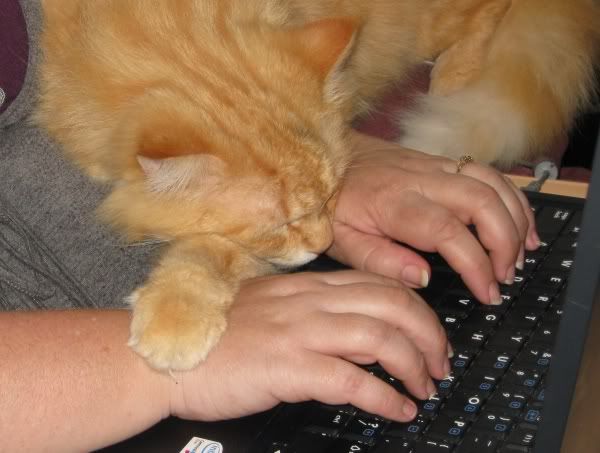 My stitching so far :
Week 1 - Cats
. : If cats could talk - (Designs by Lisa) - stitched on aida, using one of Nancy's lovely hand-dyed floss - I really think this looks like the colour of my kitty, Pyro. Despite currently looking like a long, skinny orange vase, the cat shape IS evident.
As for
Christmas Stitching - Week 2
- I picked up my Christmas Tablecloth - I'm stitching a Santa - adapted from a Jill Oxton pattern to symbolise my Dad who spent Christmas 2010 at our Christmas Table. I will endeavour to have the design to symbolise 2011 stitched before Christmas 2012 !!! I will, I will !!!!
My Christmas tablecloth fabric is a 7'x5' piece of Charles Craft Aida. I am stitching one panel each year to symbolise the Christmas before. (after all, how can I symbolise the day until it happens??)
I will try to post more than once per week - It depends entirely upon whether or not I kill more technology (ie: break this computer!)